Ports, which are the lifeline of the Maltese Islands, are an integral part of the maritime industry, which is one of the mainstays of the local economy.
The importance of maritime activities increases year after year with the recent developments in the leisure markets and the international shipping services, the ever-increasing investments by the private sector, as well as by the pro-active approach of the relative Ministries.
This is of great benefit to the country and its economy since it directly affects the generation of foreign investment and employment. In fact it is estimated that the whole maritime sector generates about 14% of the local GDP and circa 10% of employment.
PRIMARY BERTHING FACILITIES AT THE PORT OF VALLETTA
Name of Berth

Church Wharf

Length (m)

370

Depth Min (m)

1.5

Depth Max (m)

3

Main Use for Berth

Small Craft

Coal Wharf

150

6.4

6.5

Ship Repair Yard

Deep Water Quay 1-3

350

9.2

9.5

Conventional Cargo

Deep Water Quay 4

138

8

8

RoRoandGeneralCargo

Deep Water Quay 5

74

7.7

7.8

RoRoandGeneralCargo

Flagstone Wharf

217

11.4

11.7

Liquid Bulk, Bunkering

Fuel Wharf

150

10

10

Cement Silo

Gun Wharf

92

7.4

7.4

Seaplane

Laboratory Wharf

191

11.4

12

Containers-Grain&RoRo

Laboratory Wharf S No. 1

117

7.3

7.3

Containers-Grain&RoRo

Laboratory Wharf S No. 2

72

7.3

7.3

Container Cargo

Lighters Wharf

120

0.9

6

Small Craft

Magazine Wharf

225

13.7

13.7

Grain, Containers

Pinto Wharves 1 & 2

307

8.4

8.4

Passenger Vessels

Pinto Wharf 3

171

9.8

10

Passenger Vessels

Pinto Wharves 4 & 5

250

10

11

Passenger Vessels

Ras Hanzir Dolphins

80

7

7

Liquid Bulk

Senglea Quay

383

6.6

8

Passenger Vessels

Timber Wharf

115

6

11

Bunkers, Tug Boats

Wine Wharf

73

8

8

RoRo
PRIMARY BERTHING FACILITIES AT THE PORT OF CIRKEWWA
| | | | | |
| --- | --- | --- | --- | --- |
| South Quay | 87 | 5 | 5 | RoRo |
| Berth 1 | 93 | 6 | 6 | RoRo |
| Berth 2 | 85 | 6 | 6 | RoRo |
PORT FACILITIES IN THE GRAND HARBOUR
Traditionally, the Port of Valletta wasьthe only developed port to handle all goods imported to and exported from the island, all sea passenger traffic, and vessels arriving for repairs, bunkering, provisions and other maritime services. The Grand Harbour has experienced a radical change as a result of initiatives taken in the 1980s, aimed at transforming Malta into a regional Mediterranean hub. The introduction of new shipping trends and large specialised container vessels meant that for Malta to take advantage of its position at the crossroads of numerous shipping routes, a new facility for containers had to be built at the Port of Marsaxlokk. One of the main challenges for the further development of the Grand Harbour is the lack of hinterland. Surrounded as it is by historical sites, land-based industries and residential areas, there is little room for expansion. However, ongoing developments by the Authority and the Government have resulted in an upgraded and new infrastructure for the port that enabled it to take advantage of the increased cargo and passenger traffic in the Mediterranean.
GENERAL CARGO-HANDLING FACILITIES
The Port of Valletta is furnished with a series of multipurpose quays capable of handling all types of cargo. A number of terminals and open storage facilities are available throughout the port area. The main multi-purpose cargo terminal operator in the port of Valletta is the Valletta Gateway Terminals, which is a company formed between the Singapore company Portek and the Maltese conglomerate Tumas Group. The concession, which started on 1 July 2006, allows VGT to handle containers, trailers, break bulk and cars at the Deep Water Quay, Laboratory Wharf and Magazine Wharf.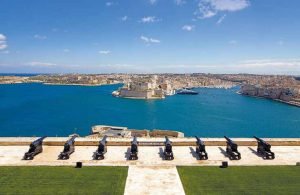 "The Grand Harbour has experienced a radical change as a result of initiatives taken in the 1980s, aimed at transforming Malta into a regional Mediterranean hub"
 VGT has invested heavily in upgrading the cargo-handling equipment, particularly that related to the handling of containers. Through its marketing approach it has succeeded in attracting new business to the port of Valletta, particularly the transhipment of unitised cargo and vehicles.
The 400-metre-long Deep Water Quay facility with its 3 sheds offering a covered storage area of 3000m2 has the major part of its superstructure constructed on piles. It was built in the early 1960s when the majority of cargo was handled in small packages and therefore there are strict weight limitations. During the last ten years it was mainly used to handle containers and trailers carried on ferry vessels.
PRIMARY BERTHING FACILITIES AT THE PORT OF MARSAXLOKK
GRAIN SILOS
Situated in the middle of the Mediterranean, Malta lies on the major sea routes and is located in the natural deepdraught Valletta Grand Harbour. Kordin Grain Terminal is well positioned to accommodate any transhipment functions which aim to serve the countries for the whole Mediterranean basin. The Kordin facility is therefore placed in a most strategic location for the handling, storage and transhipment of all types of free-flowing grains such as wheat, maize, barley and soyabean reaching the Mediterranean from the main grain-producing countries. KGT's Storage facility consists of 30 bins; 18 large bins with capacity of 3,800 metric tons each and 12 smaller bins of 1,600 tons each. Therefore total capacity is 88,000 metric tons. Each bin is equipped with a computerised product temperature monitoring system. The Kordin Terminal is equipped with am range of Buhler installations including a mobile mechanical bulk ship unloader with a maximum unloading capacity of 1,100 mtph; a mechanical railmounted ship loader with a peak loading capacity of 1,250 mtph; and direct ship-to-ship transfer facilities without the need to intake into silo. Other facilities at the terminal include automatic weighing facilities, the recycling of goods stored inside the bins, fumigation and a computerised temperature- monitoring system installed inside each of the terminal's thirty storage bins. The plants are operated and maintained by qualified teams of personnel including engineers, technicians, fitters and trained operators, in order to provide the most efficient grain-handling operations.
KGT is also serviced by a berthing quay (Laboratory / Magazine Wharf) with an overall length of 440 metres. Magazine Wharf, which is 252 metres long, is allocated for the unloading of vessels while Laboratory Wharf, which is 190 metres long, is used for vessel loading. These two berths have adequate depths for the berthing of oncoming and outgoing vessels. In fact, the terminal can accept fully-laden Panamax grain bulk carriers of up to 80,000 DWT and can load coasters and feeder vessels of up to 20,000 DWT.
CEMENT SILOS
With the increased level of importation of cement in Malta, the Authority has a concession agreement with two cement importers who had invested in their own silo facilities.
The Kordin Grain Terminal can load coasters and feeder vessels of up to 20,000 DWT.
OIL AND BUNKERING FACILITIES
Malta has established itself as a bunkering centre in the Mediterranean, challenging traditional stations such as Gibraltar, Augusta and Ceuta. Since the liberalisation of the licensing of bunker operations in 1996 the bunkering activity has grown rapidly, exceeding 1 million tons of delivered fuels every year.
SHIP REPAIR
The Grand Harbour also houses four private ship repair yards – Bezzina Ship Repair Yard, Cassar Ship Repair Yard, Palumbo Malta Shipyard Ltd. and Melita Shipyards Ltd. Palumbo offers repair facilities within French Creek where 3 docks are located with the largest capable of handling vessels of about 330 metres. Palumbo Shipyard was established in 1967 and operates similar facilities in Naples and Messina. The Grand Harbour also houses two private ship repair yards – Bezzina Ship Repair Yard and Cassar Ship Repair Yard. Both companies are equipped with shore workshops and floating docks and operate in accordance with agreements entered into with the Authority for sea and land concessions.
PASSENGER HANDLING
The operator of passenger-handling facilities in Valletta is the Valletta Cruise Port, which is a private consortium mainly made up of local enterprise but also including participation from international companies. The company has been granted an operational licence and a lease for the operation and development of passenger-handling facilities at Pinto Wharf. To enhance the berthing capacity for cruise liners the Authority has also developed Boiler Wharf, which previously formed part of Malta Shipyards before its privatisation.
WATER TRANSPORT
The development of facilities for water taxi and ferries, for the modal shift from land to sea transport, included the upgrading of landing places which could be used by water transport operators.
"Malta has maintained its ground as an attractive berthing destination to various seafaring visitors"
During 2012, Transport Malta signed a contract with Marsamxetto Steamferry Services Ltd for the provision of scheduled ferry services for the Grand Harbour and the Port of Marsamxett. The contract is for a period of eight years. The Operator, chosen through a competitive tender, operates two simultaneous services, one in each port.
MARINAS AND YACHTING
Malta has maintained its ground as an attractive berthing destination to various seafaring visitors. Touring the various marinas available round the islands, one can witness the magnificent site of various marinas bursting with activity. Malta currently offers eleven marinas around the island and these cater for various sizes of yachts and small ships which can range from 16 metres to 100 metres in length. Statistics show a steady increase in the number of berthing places from 1,511 in 2009 to almost 2,000 yacht berths. These marinas are complemented by a number of seasonal, temporary marinas.
"Malta Freeport houses licensed operators within the Free Zone who utilise one of the 10 industrial units of 1,000m2 each"
INDUSTRIAL STORAGE FACILITIES
Malta Freeport houses licensed operators within the Free Zone who utilise one of the 10 industrial units of 1,000m2 each. Legislation permits these users to carry out various activities within these warehouses, including distribution networking, just-in-time inventory management, cargo consolidation, break-bulk and onward shipping, as well as elements of processing.
ENEMALTA PETROLEUM FACILITIES
Enemalta Corporation is the public entity responsible for power generation and the import of petroleum for the local market and its main storage installations are located within this port. The Corporation also operates the biggest and most modern power station in Malta which is also located in the port.
GAS INSTALLATION
The LPG installation, which serves the domestic market, is located in Benghisa close to the Oiltanking Terminal within the Port of Marsaxlokk. The tanker discharging berth, Jetty 4 is located within Oiltanking's Terminal.
PORT FACILITIES IN THE PORT OF MARSAXLOKK CONTAINER TERMINALS
Malta Freeport is presently amongst the leaders in the Mediterranean transhipment scenario. The high volume of containers being handled is a result of the Freeport's track record and the positive international recognition which the company enjoys with global carriers as a reliable and credible port. The Freeport's increasing attractiveness is founded on the right configuration of unparalleled location in the centre of the Mediterranean, outstanding facilities dedicated to transhipment, pristine handling equipment, advanced technology, highly skilled and enterprising personnel, unmatched quality service, as well as an efficient security system which ensures that its clients' demands are met efficaciously. Other crucial factors include extensive worldwide regular network connections, high performance levels and cost-effectiveness, ease of access to markets with minimal diversion distance, easy port accessibility, safe manoeuvrability of vessels and all-year favourable weather conditions.
Malta Freeport Terminals offers clients state-of-the-art transhipment facilities developed in line with their increasing requirements including a total operational deep water quay of 2,463 metres, a total area of 771,000 square metres, 15,290 container ground slots and a total number of 1,077 reefer points. All the mainline berths have a water depth of 17 metres, namely Terminal Two North Quay and South Quay and Terminal One North Quay. Malta Freeport Terminals is currently equipped with twenty-one super post-Panamx Quayside Cranes.
 The Yard Cranes serving both Terminals include 2 Rail-Mounted Gantry Cranes (RMGs) and 50 Rubber-Tyred Gantry Cranes (RTGs). Forty of these RTGs have twin-lift spreader capability.
In line with Malta Freeport's strategy to consolidate its competitive edge within the Mediterranean containerisation scenario, the Freeport is pursuing various development projects aimed at expanding its capacity and improving productivity. This investment will increase the quay operational length to over 3 kilometres.
OIL PRODUCTS TERMINAL
The storage facilities operated by Oiltanking Malta Ltd are organised in four tank farms, providing a total built capacity of 562,450 cubic metres. The facility is served by four jetties operated exclusively by Oiltanking Malta Ltd, with a capacity to handle vessels up to 120,000 dwt with a maximum draft of 16 metres. Cargo handled includes crude oil, fuel oil, gas oil, jet fuel, gasoline and components. Special services include blending, butanising, injection of additives, tank-to-tank transfers and ship-to-ship operations.
OFFSHORE LOGISTICS BASE
Medserv plc, a company quoted on the Malta Stock Exchange, operates a 50,000m2 site including offices and covered warehousing extending to 5,500m2, providing a logistic base for oil companies operating in the Southern Mediterranean. The company also enjoys the exclusive right of use of a deep water quay extending to 200 metres with an additional quay working space of 5,000m2 as well as a further ancillary quay.
FISHING PORT
Marsaxlokk is the major base port for 70% of the Maltese fishing fleet. In fact it is the largest fishing port and the main fishing harbour of Malta. It is the best place to see the colourful, traditional Maltese fishing boats, the Luzzu, with the mythical eye painted on their prows.
OTHER PORTS
The upgrading of berthing and passenger handling facilities in the port of Cirkewwa is now complete. This development mirrors the works that were carried out in the port of Mgarr Harbour (Gozo) where a modern passenger terminal has been built. In view of this general economic interest the Authority has invested considerably in these two ports in order to reduce the non-operational days to a minimum. The whole project involved the construction of two berths and the extension of the breakwater at the port of Cirkewwa, the extension of one quay in Mgarr Harbour and the building of a passenger terminal in each port.
Mgarr Harbour in Gozo also serves as a mooring station for fishing and locally- owned boats, and a yachting centre. Occasionally the latter harbour is also used for the berthing of small cruise liners and cargo vessels. The ports of Marsamxett and St Paul's Bay are also designated as ports in terms of the Ports and Shipping Act. However these are mainly used for the mooring of pleasure craft and fishing boats.
Our Working Partners
Click on the link of your choice  to discover more…