Statistics point to Malta being the largest shipping register, but, as two intrepid but very different lovers of the sea from MaritimeMT told Malta Maritime Directory, quantity must be balanced with quality.
Hailing from the realms of finance but with a love for the sea, the CEO of MaritimeMT Pauline Micallef, and School Principal Master Mariner Captain Edwin Vella spoke of how MaritimeMT is setting the course for a maritime sector which is up to date with the needs and drives of this very important area of the Maltese Economy.
MaritimeMT is a perfect example of how individuals can get together in co-operatives and create a facility which is making waves.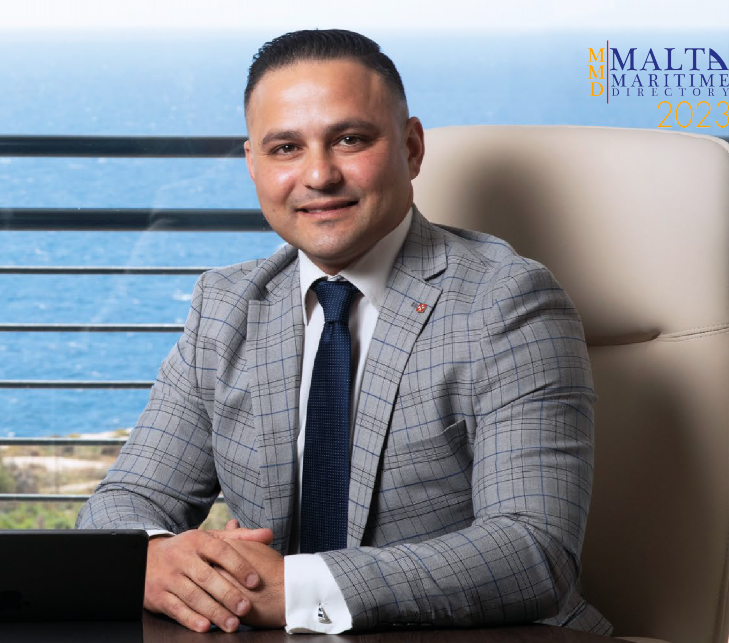 At sea, every minute counts. Delay, prevarication and lack of focus can lead to fatalities. So, it was not at all surprising that MaritimeMT CEO Pauline Micallef is a woman who goes straight to the point. Rising through the management ranks, Ms Micallef has a passion for the sea and a grounding in finance. In other interviews, she spoke of her wish to own a boat as well as the affinity she feels with the sea. Of a similar ilk is Master Mariner Capt Edwin Vella, for whom the sea runs in part of the family, and who is equally pithy and to the point.
Capt. Vella takes care of the technical aspect of the academy. The sea-spirit from both these leaders comes across even on a hard-nosed interview which deals with policy.
"As we rank so high on the flag registration, we have an obligation to match and beat all required criteria in terms of the preparation and career path-honing of the industry's people. And when we come to certification and to people knowing about the Malta ticket, so to speak, international awareness can yet be much profounded upon," said Ms Micallef
We are executing an
extraordinary amount of
promotional work and
attend a good number of
quality educational talks
and fairs where we promote
Malta as much, and as
constantly as possible
Pauline Micallef
photo: Pauline Micallef and Edwin Vella presenting one of the Academy's two fully blown Mission Bridge Simulators.
She immediately added the redress which MaritimeMT is working on to bring this aspect as much to the fore as the flag registry is. "We are executing an extraordinary amount of promotional work and attend a good number of quality educational talks and fairs where we promote Malta as much, and as constantly as possible," continued Ms Micallef.
Turning to the aspect of quality control in the flag registry, Ms Micallef said that MaritimeMT "…is very, very strict, since we rate quality as the supreme core of all that is. We do not find that the flag lacks quality or controls so we are very reluctant to change for the simple sake of changing." "Indeed," chimed in Principle Master Mariner Edwin Vella, "Malta has spanned the arc from what was probably wrongly perceived as a flag of convenience, to one of reputation." The latter, he emphasised, can only be maintained, and improved upon, through strict assessment.
An example of this is that this organisation, under the helm of this dynamic leadership team, worked hard to influence standardisation in matters such as the national implementation of yacht certification: "a matter well considered by the authorities since the flag's value is considerable and the collective want is to make sure that it is up
to scratch at all times and in all aspects," added Capt Vella.
the authorities listen to our words because
our finger presses firmly upon the industry's pulse
He added that MaritimeMT prides itself in having been the trailblazer in creating these 'tickets'; a maritime term for the different types of certification and licensing.
Capt Vella smiled when, ever curious, the Directory queried this term. "Tickets," he explained, "are the official Certificate of Competence (widely know as CoC's), issued by an Authority. The school can issue a certificate of completion for a particular course, however only the Authority can issue the official "ticket/CoC" once all the criteria have been met."

KEEPING AN EAR TO THE GROUND
Innovation creates its own needs – and opportunities.
Following onto Capt. Vella's comments, Ms Micallef said that while working in synergy with other authorities, MaritimeMT thus ensured that the new certification also carried with it suitable educational programs.
MaritimeMT – a Profile
Mission Statement: Setting the course for your maritime career.

MaritimeMT is a maritime institution driven by standards to provide high-quality training to clients, whether they are students, maritime professionals, or seafarers. MaritimeMT uses proven teaching methods and is constantly looking to be innovative in the resources used, to offer seafarers and shore-based personnel the highest levels of tuition, training, and development through its three academies: the Small Craft Academy, the Merchant Navy Academy, and the Superyacht Academy.
Its long-term vision is to be a globally accessible maritime campus offering accredited training and career solutions; Leaders in delivering excellence in maritime education. MaritimeMT is the brand name for the MMRTC Society Cooperative Ltd, owned by the 16 Malta Maritime Pilots, all master mariners with considerable years' experience out at sea. Founded in 2010, it was earmarked to be the training arm of the said Malta Maritime Pilots whose focus was on training and research for operational pilots. In time, so rigorous was the training that the cooperative was requested to train other sectors within the maritime industry.
From an ad hoc arrangement, this educational role has become a one-stop-shop for seafarers and shore-based personnel, offering mentoring, training and research, and career development. MaritimeMT training centre is accredited by Transport Malta, as the leading flag in Europe and the 6th world largest, and the Scottish Qualification Authority also recognises MaritimeMT as a training and examination centre. In terms of classification society, MaritimeMT is accredited by Det Norske Veritas (DNV). The lecturers are experienced and operational maritime professionals from different sectors, all whom are passionate about their sector and about passing their knowledge onto the next generation. The extensive list of courses on offer varies from basic entry level up to a Master on board any vessel. With most of the courses accredited at STCW level, students are to expect high quality qualifications.

Whether a student, an employee, the authority, or any other stakeholder, these are the values MaritimeMT lives by; Professional – We are reliable and transparent, Respect – We value everyone equally, Collaborative – We work together to achieve goals, Determined – We are committed to continuous growth, Challenge – We seek opportunities by questioning the status quo.
pollution at sea is regulated by a convention and this – as well as
other directives by the International Maritime Organisation, is included in the curriculum
"Obviously, the authorities listen to our words because our finger presses firmly upon the industry's pulse. The authorities have the resources and mandate for improvement and we are the ones with our ears to the ground – this is the way for valid changes to be made," said Ms Micallef. "We are also in constant touch with the students who are practicing sailors and captains who come to us with requests and suggestions.
They ask on particular tickets and we explore the feasibility of implementing the suggestions made," complemented Capt. Vella.
The focus is clearly the student, and the aim is to offer as many viable possibilities, options and paths as possible.
Both Ms Micallef and Capt. Vella explained that Malta offers the students the opportunity to study to the highest ranks of command. "We are already accredited by Transport Malta without which we cannot operate and the Scottish Qualification Authority as well as a classification with DNV – three very prominent accreditations. As this form of education is considered to be vocational more so than academic, discussions are still underway for the courses offered by
MaritimeMT to be accredited to the MQF level as happens in other countries.
With this level, our students will thus stand to benefit, for example, from EU funding opportunities ,and the prestige of having attained these tickets would be enhanced," pointed out Ms Micallef. Students would thus have a yet more recognised documentation of achievement.

IMPORTANCE OF MERCHANT MARINE
Sailing is something which maritime nations take almost for granted but even in this sector there are at least two major divisions: the Navy and the Merchant Navy. While audiences are more familiar with the achievements of heroes of the silver screen through movies such as 'Hunt for Red October' or 'Tora, Tora, Tora', the
quieter but no less industrious Merchant Navy gets less hype.
photo: a portion of MaritimeMT's workshops: additionally providing students with tutored hands-on training in seamanship and engineering amongst others
"The Merchant Navy has its own specialised training. We work with the Armed Forces of Malta, and the Civil Protection Department; and while their recruits follow the military aspects of seafaring, they are also sent to us to get the merchant marine tickets so that when the recruits retire, they still have recognised certification to work with, and thus remain as fully productive within the industry as they engaged themselves to be," said Capt. Vella. Indeed, many of Malta's larger private shipping companies and governmental entities such as the Civil Protection Department use the facilities and expertise of MaritimeMT.

TECHNOLOGY GIVES THE SPUR
Seafaring has been around ever since humanity saw what Keats described as 'one wide expanse' and was inspired to cross it. Ms Micallef, however feels that the sector is, "in some ways, still in its infancy, because there are a lot of improvements which technology has created which can yet be implemented." She said that when it comes to training, MaritimeMT is well equipped but, as with all things technological, the equipment is quickly superseded.
Referring to the recent Covid-19 pandemic, she said that education shifted online and following the lifting of restriction, MaritimeMT offered blended learning "…however there is a lot of learning that needs to happen face to face, especially when it comes to aspects such as safety, fire-fighting and survival – these are not things you can learn online only, " emphasised Ms Micallef.
FACILITIES –
FOR ACHIEVEMENT AND COMFORT

MaritimeMT encompasses a wide range of accessible state-of-the-art facilities which are equipped with the latest technology.
These span from theatre or boardroom style lecture rooms to a vast array of cutting-edge simulators, all for research, consultancy and training purposes.

MaritimeMT also offers ship-handling training on its state-of-the-art DNV-certified Full Mission Bridge Simulators complete with ARPA and ECDIS systems.
MaritimeMT furthermore offers training through an e-learning platform where students can access the course content and materials online.
She said that while technology is indeed a prod to change, the maritime sector is typically slower to react as the costs and time spans required for upgrading vessels are considerable. However, MaritimeMT, albeit being just as heavy on cost in the purchase and maintenance of their equipment (which mimics that found on veritable ships), does not abide by this peculiarity and has never stopped investing in its infrastructure, neither from a property expansion, nor in human resources, and neither from an IT Development point of view.
students at MaritimeMT
academy can benefit from
EU funds through the Get
Qualified scheme and the
Jobsplus Scheme
AN EYE ON THE ENVIRONMENT
MaritimeMT operates in a sector which is regrettably still a major pollutant. Indeed, if the generation of pollution on land gets a lot of flak, maritime pollution may be more insidious since it is less tangible. 
And as Ms Micallef pointed out, whilst MaritimeMT, as an educational institution is not directly linked to pollution, it still feels duty bound to do its bit to ensure a cleaner environment.
For this reason, Ms Micallef aims to go as paperless as possible and to implement reuse of paper as well as to decrease the consumption of electricity. Capt. Vella also pointed out that pollution at sea is regulated by a convention and this – as well as other directives by the International Maritime Organisation, is included in the curriculum of MaritimeMT.
UNTAPPED CAREER OPPORTUNITIES
'Mediterranean Maritime Research and Training Centre' as the official name of MaritimeMT runs, has opened up new vistas in the sector of maritime education. Ms Micallef said that before its inception, there had been no or limited opportunities to study in this area at the level offered now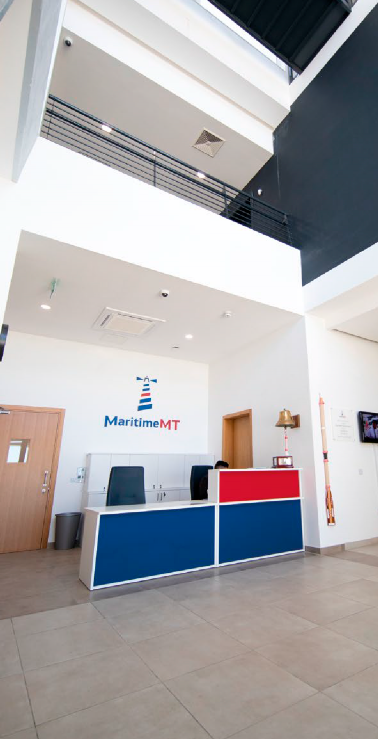 "However, many Maltese still do not know about the opportunities offered and this is a pity since we are not exploiting this resource which for us is unlimited," observed Capt. Vella, adding that out of the thousands who leave sixth form, very few opt for a maritime career.

Ms Micallef said that MaritimeMT does a lot of outreach in
schools including via the STEM project launched by government. "And you do not need to become a captain to work at sea – just look at cruise ships, these are floating cities," observed Ms Micallef, adding that the sector also pays very well. She added that while the salaries, particularly in the super-yacht industry are very competitive, one has to weigh the positives which also include some of the most dashing places on earth, with being away from home and long working hours.
We have a wide and
varied international
input, with students
coming from over
48 nationalities
in 2021
Edwin Vella
"The job can pay well with entry level salaries in the €2,500 monthly at the lowest rung of the employment ladder. But and this is a big but, to earn that you would be working on a super-yacht with billionaires and that may not be easy," said Ms Micallef. Moreover, students at MaritimeMT Academy can benefit from EU funds through the Get Qualified scheme and the Jobsplus Scheme. Ms Micallef said that MaritimeMT also participates in Erasmus projects which helps it, as an academy to forge new markets and alliances with similar institutions.
it is of paramount importance
that ships as well as
locallybased infrastructures …
are fully compliant to the
necessary standards of
quality, efficiency and
health & safety
"We also have a variety of international students and companies ranging from New Zealand to Columbia, UK, EU to the Far East amongst others… where we are offering mainly Maltese "tickets" both for Superyachts and Merchant Navy, or otherwise," added Capt Vella. He added that while the size of Malta's military Navy is quite contained when compared to those of larger countries, our Merchant Navy is not.
"We do very well in educating maritime professionals in a lot of different categories. Indeed, the Academy is now expanding also into shore-based sea-related work."

GENDER BALANCE STILL FAR OFF
One other aspect that has yet a long voyage to undertake in the maritime sector is gender balance. Capt. Vella ruefully acknowledged that it is still highly male-dominated: "in 2021, only 16% of participants at MaritimeMT were female."
Ms Micallef did note that the hospitality side of seafaring attracts a considerable cohort of women. This gender stereotyping is still prevalent although the
courses are open for everyone with both Ms Micallef and Capt Vella saying that this is a mentality which will change slowly but surely, as in most maritime matters.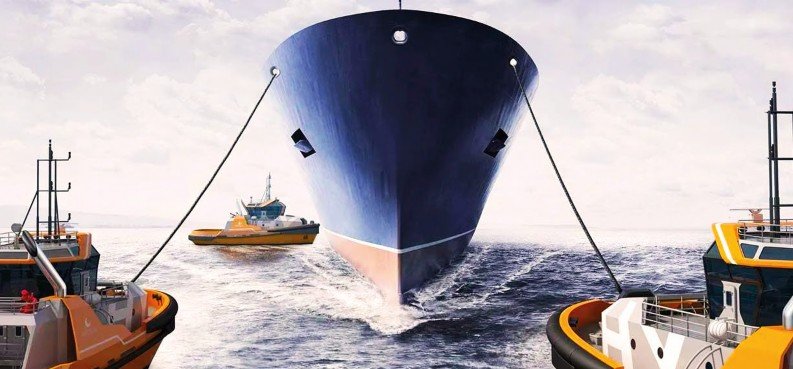 BRIDGE SIMULATOR –
FOR THE 'REAL' EXPERIENCE

The Marin Industries dual manoeuvring mission Bridge Simulator, certified by Det Norske Veritas (DNV – certified) is used for research, training and consultancy. The simulator has two fully equipped bridges with Automated Radar Plotting Aid (ARPA), a complete
ECDIS system, together with all the controls and instrumentation required to control a vessel, both in open
waters as well as within the confines of a harbour.
Both bridges have a 210° visual scenery in HD, including an additional rear view. Besides the Valletta and
Marsaxlokk port areas, the Dolphin software offers
various simulation places including major posts such
as Rotterdam, the Firth of Forth and other locations,
making it possible for pilots and seafarers to train and
experience new and different scenarios.
The simulator has the capability of generating and altering different environmental conditions, such as wind
speed, water currents, rough seas, different levels of
swell, varying visibility, rain and light and dark. This can
help the individuals enhance and test their capabilities.
Aimed at Pilots, tug masters, ship masters, mooring
masters and Deck Officers, MaritimeMT's simulator
offers training on ship handling on various models of
vessels ranging from tugs to passenger liners, from car
carriers to the largest cargo carriers. Those working on
the simulator will also get to experience mooring lines
and anchors and the occasional machinery failure so
that emergency alertness is also tested
MORE COURSES IN THE OFFING
Capt. Vella observed that as recreational boat ownership is on the rise, MaritimeMT offers courses for inexperienced boat owners at a recreational level. "We're seeing, in general, that we have such an increase in maritime activity that it is becoming more difficult to navigate if you do not know what you are doing. Here there is a lot of work which needs to be done and the structure for such licensing needs a re-vamp," he explained. With the difficult questions out of the way, Capt Vella expanded about his own student years, pointing out that challenges at sea can be very different from those encountered ashore. On a vessel, there is "nowhere" to hide or escape to… there are no days off… if we encounter a problem, or even when facing issues amongst us, we the crew must perforce find the proper solution for the ship to steadily keep true to its course.
MaritimeMT:
"not simply abreast but ahead of the educational needs of the industry"
Whilst working on superyachts often invites scenarios such as working with complex employers and being away from home for extended periods, one
should expect even entry level salaries in the €2,500 monthly region whilst visiting some of the most dashing places on earth.
This goes to prove that "working at sea is not for the faint hearted, however for those who want to explore this incredible industry, with the right training and guidance; one can gain valuable skills and experiences which can't be replicated ashore."

THE FUTURE BECKONS
So, with eyes firmly on the future, where is MaritimeMT heading? The eyes of both Ms Micallef and Capt. Vella glinted, a sure indication not only of the synergy between these two highly competent individuals but also of their appreciation of each other's roles: the commercial and the academic. This synergy is, perhaps the defining core competence of this excellent academic institution: the seamless interaction between the roles of Chief Executive Officer and of School Principal.
Ms Micallef has an educational and experiential background in accountancy and business management, while Capt. Vella is a Master Mariner. In the course of the interview, it became clear as to how advantageous and logical this joining of forces has been. This conjunct leadership has yielded the best academic provisions, in the most sustainable manner possible for the good of the institution and the industry itself, whilst continually seeking to improve the service offerings to the students, and further strengthening the value of their tickets.
Ms Micallef confidently explained that their three-tiered approach to education: via their Merchant Navy Academy, Small Crafts Academy, and Superyacht Academy, is to be consolidated and kept running smoothly and seamlessly at the highest levels of tuition, training and development. Some of their fundamental means of so doing is to keep constant vigil on the market needs and to be communicative with the local authorities. Another is to keep investing in technology, people and their operational capabilities. Capt. Vella on the other hand, said that he mainly sees that MaritimeMT keeps not simply abreast but ahead of the educational needs of the industry.

In sync with Ms Micallef, Capt Vella sees this role as crucial not only to the evolution of the educational institution he serves but also a way of influencing positively the industry through the provision of highly qualified and adaptable personnel. Both Capt Vella and Ms Micallef seek to ensure that MaritimeMT is perfectly capable of optimising the educational opportunities of all people, from all four corners of the world, in order to constantly provide the very best educational advantages which a modern maritime institution can possibly provide.